Plumbing Services
At A & A Services we also provide professional plumbing and electrical services.
Our specialist team is fully experienced in electrical and plumbing systems in the home and in commercial settings.We offer full service on both maintenance and installation.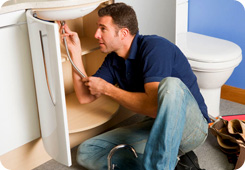 Central Heating Systems
All of our plumbers are Gas Safe registered, so we are competent to supply, fit and maintain any boiler or central heating system. Our experience in the business means that we can also help advise on the best boiler options for your home or business.
Kitchen and Bathroom Fittings and Appliances
In addition to our plumbing services and central heating repair we are also able to fit kitchen appliances and bathrooms. Because we are NICEIC certified we can confidently repair wiring and other electrical issues too.
Power Flushing
Sludge, rust and general blockages can be cleared from central heating systems with power flushing. In addition to saving you money by increasing the system efficiency, this solves many minor problems.
Other maintenance such as radiator bleeding is also available.