Underfloor Heating
A number of our renewable energy sources work in harness with underfloor heating. We are able to combine systems to provide you with warmth in the winter and cooling in the summer.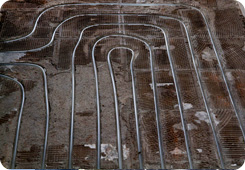 How Does Underfloor Heating Work?
Pipes or wires are expertly laid underfloor by our engineers. These can have either a warming or cooling effect within the home. Underfloor heating is especially effective when combined with ground source heat pumps.
Hydronic and Electrical Underfloor Heating
Underfloor heating works through liquid or electric means. Hydronics involve liquids for use in either cooling or heating. The liquid adds or removes heat from a room, providing constant temperatures, transferring the excess heat or cold outside. Electric systems can only heat.
What Else Can We Provide?
Renewable energy systems
Plumbing services
Central heating repair
Power flushing
Solar power systems
Air & ground source heat pumps